Benefits of epoxy resins
January 5, 2022
Posted by:

veeyor@dmin

Category:

Epoxy resins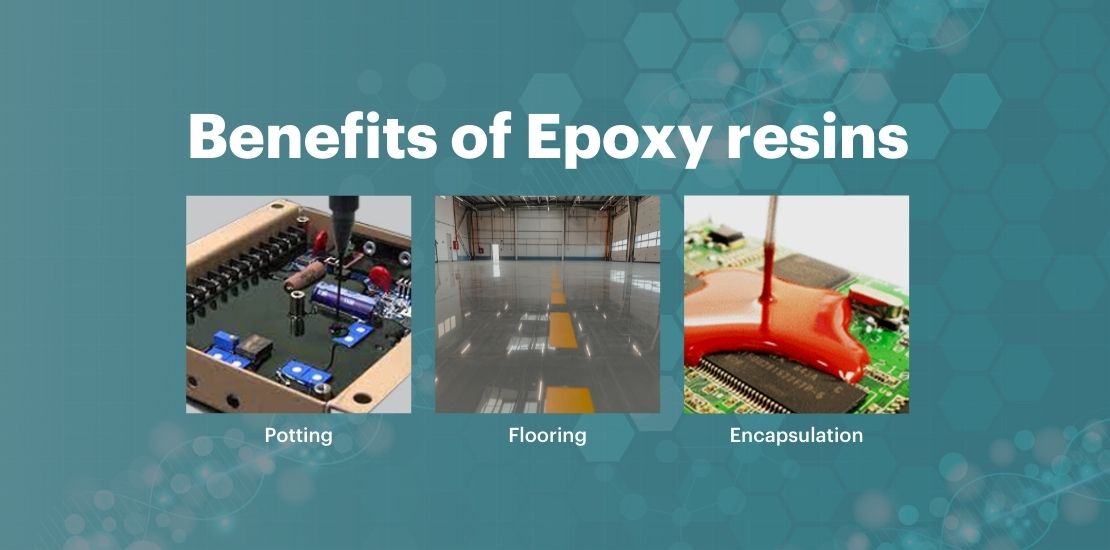 Epoxy resins comprise a special type of polymers containing molecules with repetitive subunits. This structure of epoxy makes the resin highly durable and tough yet fairly elastic. Epoxies are a preferred material in the industry due to their excellent resistance to heat and chemicals, and great adhesion properties.  Compared to other conventional polymers, epoxies bring a number of advantages to the table. It is used in numerous construction and structural applications due to its high flexibility and ease of use
Advantages of epoxy resins
Reliable strength


Epoxies possess a higher flexural strength than other resins and are much less brittle than polyester. Epoxy resins generally come in two parts which are mixed as per a specific resin-to-hardener ratio. Generally this ratio ranges between 2:1-4:1 and is sometimes dependent on weight. 

Longer pot life


Compared to other resins, epoxy resins have a longer pot life. This means they are slower to gell, allowing more working time to the user. Even the fast-gelling epoxy resin will typically allow at least 15 minutes of working time before it starts curing. A regular epoxy resin can take anywhere between 40 to 100 minute more to settle. 
High degree of corrosion protection


Epoxy resins possess a high degree of chemical stability. Additionally, after curing and drying, epoxy resins can resist heat as well as a wide range of chemicals including acids, solvents, salts, alkalis, and alkaline substances. This makes epoxy resins the best fit for use in chemical processing industry. 

Ease of use


Epoxy resins are easy to use. They are flexible and almost odorless as compared to other resins. Additionally, epoxy resins are resistant to mold, and their monolithic properties help reduce microbial growth. Hence, these resins are also suited for use in food and pharmaceutical industry. 
The perfect mixture of ingredients is the key to obtaining an epoxy resin with the desired properties. Further on, the mixture between the resin and the hardener has to be correct to ensure that there is complete chemical reaction. If threse is a mistake here, it becomes apparent only after the resin has cured. Hence, it is advised to work with an experienced epoxy expert when choosing and deploying the epoxy resin. Veeyor Polymers has over 30+ years of experience in manufacturing of epoxy resins. Over the years we have developed a deep focus on R&D to offer customized resin solutions to our customers